Press releases
European children are showing the continent how to reduce its emissions and reliance on Russian oil
May 6, 2022 – Starting today and for the next two weeks, thousands of children across Europe will ride their bikes and play on the streets in front of their schools to raise awareness for cleaner air and to reduce dependence on oil.
Children from Italy to Spain, France to Albania will take to the streets together with their parents, teachers and environmental groups, to demand their cities close off streets in front of schools to cars. The grass-roots campaign, activated throughout Europe, comes on the heels of the ongoing war in Ukraine and highlights the continent's struggle to wean itself off of its dependence on Russian oil.
The #StreetsForKids mobilisation is being coordinated by the Clean Cities Campaign, a network of over 60 environmental groups working to push European cities to transition to zero-emission mobility by 2030, in collaboration with Kidical Mass.
Over 370 local partners and parents groups will mobilise in 100 cities and 12 countries through activities, including bike-to-school rides at peak hours.
"School streets" are an important element of zero-emission mobility, providing more space for people and reducing car dependency in cities: there are 500 in London, 170 in Paris, 120 in Barcelona. They have proved to be an effective way to reduce air pollution and improve safety in the immediate vicinity of schools. A London study showed how school streets reduced nitrogen dioxide (from diesel cars) up to 23%, while substantially reducing traffic throughout the day.
"Thousands of children will reclaim the streets for biking, walking, playing, drawing and learning. They will do so to affirm their right to breathable air, space to play and safety on their journeys to and from school" said Barbara Stoll, Director of the Clean Cities Campaign. "With this Europe-wide mobilisation, we're asking mayors to commit to closing cars off from all streets in front of schools by 2030, starting from the new school year".
Cities are responsible for over 70% of greenhouse gas emissions: the urgency of the climate crisis requires a swift and deep transformation. As shown by the latest IPCC report, urgent action is needed to reduce inner-city traffic and promote cycling, walking, public transport and shared mobility.
Furthermore, the ongoing conflict in Ukraine highlights the immediate need for European countries to reduce their dependence on oil imports. As indicated by the IEA, curbing demand in the transport sector is essential to achieve that objective. National governments and city leaders are urgently encouraged to deploy a wide array of policy measures to decarbonise transport. School streets are an important piece of the puzzle, since a sizeable percentage of daily urban trips are school runs.
"As shown by our recent City Ranking, European cities have not come out of the pandemic as green and sustainable as they could have. Implementing thousands of new school streets would be a way for many local administrations to show that they're serious about transforming mobility and urban space in their cities", concluded Stoll.

ENDS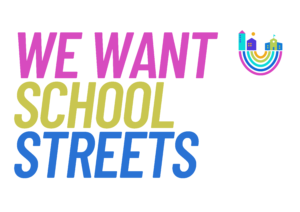 About
CLEAN CITIES is a European coalition of NGOs and grassroots groups campaigning for zero-emission urban mobility by 2030
SCHOOL STREETS: A School Street is a road closure strategy to restrict motorised traffic, where walking and cycling zones are created in front of schools, at least during drop-off and pick-up times. Further information can be found in this April 2021 report by FIA Foundation and this May 2021 literature review by BYCS and Clean Cities.