Press releases
Campaigners celebrate End of Diesel with poster campaign launch and plea to phase out diesel cars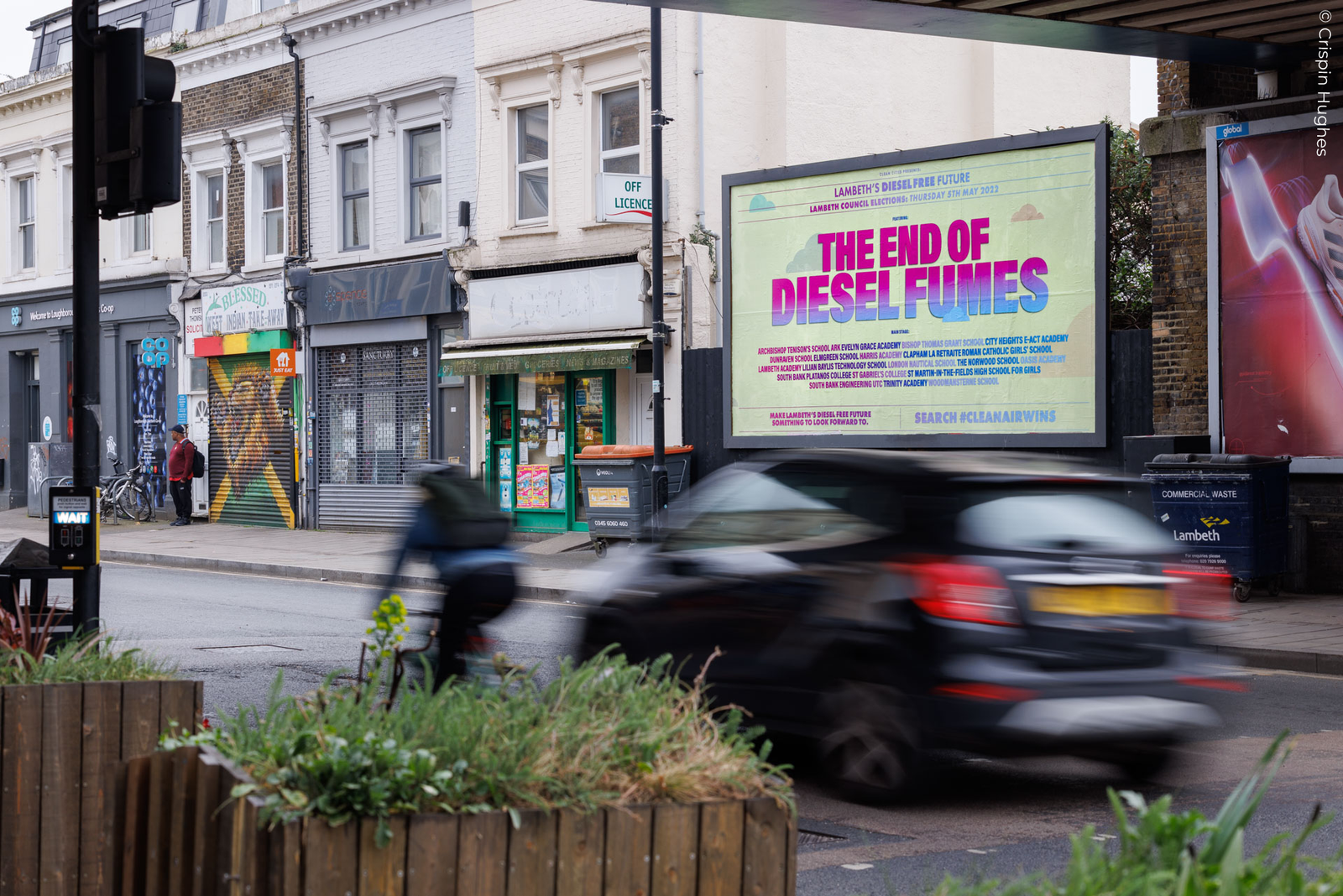 Campaigners and councillors attended the launch of a new campaign celebrating the End of Diesel, with a poster launch in Coldharbour Lane, Lambeth, endorsing a new campaign called #CleanAirWins. Six billboards across the capital are calling on councillors to ensure their boroughs are diesel free by 2030 or sooner.
Research shows that drivers in London have abandoned diesel cars six times faster than those in the rest of the UK, though further action is needed by councillors and candidates. In order to ensure that diesel cars are phased out quickly, Mums for Lungs and the Clean Cities Campaign are calling for councils to no longer issue new permits for diesel cars from next year (2023) with an exemption for blue badge holders. This would not affect residents that already have a diesel car, whose permits would continue to be honoured. It will discourage any more diesel cars being brought to London. Lambeth Labour Councillors for their part have pledged to end diesel in the near future, saying they are committed to the headline goals which are being called for by campaigners.
Cllr Danny Adilypour, Cabinet Member for Clean Air, said: "In Lambeth, we're committed to being a diesel free borough in the very near future. We're looking at how we charge cars for parking permits, emissions play a big factor, and for a diesel car it costs more to park on our streets, so we really support the #CleanAirWins campaign and we're doing everything we can in Lambeth to make sure we reach the campaign's goals. In Lambeth we're keen to make it easier for people to walk or cycle instead, we're committed to making it safe to cycle and also safe to store a bike across our streets and estates, we want to have as many bike hangars as possible, as we know there is high demand for these."
Cllr Claire Holland, Leader of Lambeth Council, said: "Our air is toxic, and people die prematurely from London's dirty air. The people most at risk are our most vulnerable citizens, our children and people with underlying health issues. It's really important that we clean up our air, so we're delighted to be at the launch of this poster campaign because we need to make Lambeth's air cleaner for our children."
A coalition of 28 campaign groups brought together by Mums for Lungs and the Clean Cities Campaign have signed a joint declaration urging all council candidates to commit to cleaning up London's toxic air ahead of elections in May, including phasing out diesel cars. The '#CleanAirWins' campaign will put the positive and upbeat case for action on clean air, demonstrating the popularity of such policies.
Research published by the campaign shows that while progress has been made reducing diesel fumes, there is still some way to go and across London diesel cars still cause three times as much pollution as HGVs. 35% of road transport NOx emissions are from diesel and petrol cars in Lambeth and 41% in Wandsworth.
The groups, led by the Clean Cities Campaign and Mums for Lungs include Friends of the Earth, Sustrans and Cycle Sisters.
Attendees at the launch included the Leader of Lambeth Council, Cllr Claire Holland, Jemima Hartshorn, a parent from Herne Hill who runs Mums for Lungs, Cllr Jim Dickson, Herne Hill Councillor and Cabinet Member for Health, Cllr Danny Adilypour, Cabinet Member for Clean Air, Cllr Mahamed Hashi Cabinet Member for Environment and Cllr Donatus Anyanwu, Councillor for Coldharbour ward and Cabinet Member for the voluntary sector, along with UK Head of the Clean Cities Campaign, Oliver Lord.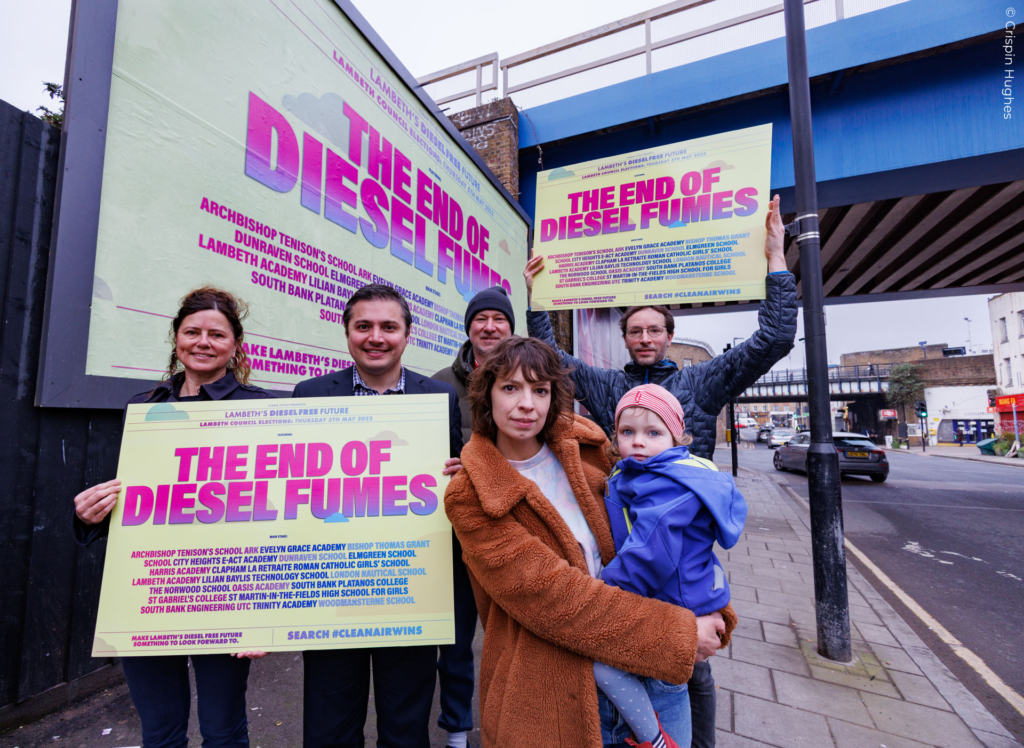 All the four main local political parties were invited to attend and to ask what they are doing to make the end of diesel happen sooner. Roughly 1 in 5 cars in Lambeth and Wandsworth are diesel and campaigners want to get to zero by 2030. Lambeth Labour have confirmed in writing to Mums for Lungs: "This is such a vital campaign and the organisations working on this campaign with you have done and continue to do so much to raise awareness of and push for solutions to London's toxic air. We are pleased to confirm Lambeth Labour's commitment to your headline goals."
Despite the downward trend in some areas, diesel is still a disproportionate contributor to air pollution. Recent research showed that diesel cars in London cause three times as much pollution as trucks and lorries. Pollution from diesel cars contributes to the deaths of 8.8 million people worldwide, including 4,000 in London. It stunts children's lungs for life and triggers conditions from asthma to heart disease.
Mums for Lungs and Clean Cities Campaign want every borough to completely phase out all diesel car parking permits by 2030, and for car parking to take emissions into account by 2023, with controlled parking zones in every part of the capital.
Jemima Hartshorn, a parent who lives in Herne Hill and organises the Mums for Lungs group said: "We are on the cusp of something historic with the end of diesel fumes. But we won't get there without local leadership from councillors and candidates. Let's make polluting cars a distant memory."
Oliver Lord, UK Head of the Clean Cities Campaign said: "The end of the road for diesel cars is truly in sight. But we will get there much quicker, and save thousands more lives if we give these polluting vehicles a final push into the scrapyard. Councils have the chance to change behaviour. We want all parties to commit to ending car parking permits for new diesel cars by next year and commit to going totally diesel free by 2030. This would be another important milestone on the journey to cleaner air, tackling the climate crisis and ending our reliance on Russian oil.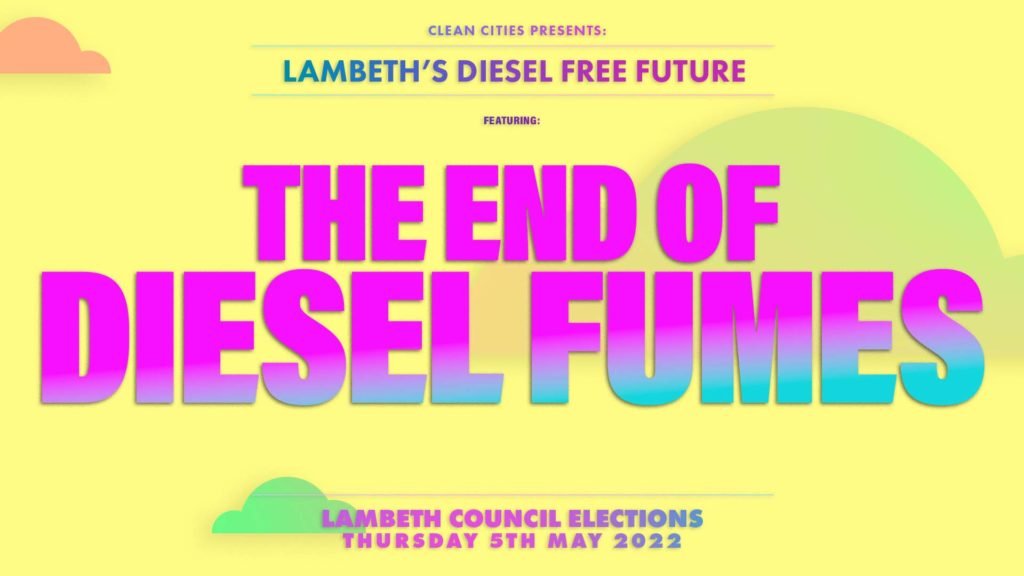 Six billboards are being launched for two weeks in London (Wandsworth and Lambeth) to celebrate The End of Diesel Fumes. The artwork for the billboards echoes the upbeat nature of the campaign, echoing a music festival poster celebrating the end of diesel, and featuring the names of local schools in Lambeth and Wandsworth who can celebrate the potential for cleaner air.
Poster Locations: Posters have been launched at the following locations
Wandsworth:
Streethub – Putney SW15 1RT: Global
Streethub – Tooting SW17 9NJ: Global
4 x 60×40 – Battersea / 171 Battersea Park Road SW8 4LT / Battersea Park Station: JackArts /
3 x 60×40 – Putney / Opp 106 Putney Bridge Road / SW18 1NJ Putney Bridge Road: JackArts /
Lambeth:
48 poster / Vauxhall Cross, Harleyford Road / SE11 5AX Vauxhall Cross (Lambeth): JackArts / 48 poster /Coldharbour Lane / SE5 9QH Coldharbour Lane: JackArts
Broll, voxpop Video and photos of the poster Launch: Diesel Billboard Launch – Lambeth – Google Drive
For more information:
Contacts :
Alex Bingham | Clean Cities Campaign | alex@alexbigham.com | +44 (0)7830 195 812
Olivier Lord | UK Head of the Clean Cities Campaign | olivier.lord@cleancitiescampaign.org
About Mums for Lungs: https://www.mumsforlungs.org/
About Clean Cities Campaign: cleancitiescampaign.org